CONSTRUCTION OF A COMPOSITE GUITAR TOP
---
Report of a presentation by Gernot Wagner on May 14, 2010 in the castle of Hingene, Belgium.
Author: Chris Van Heddegem, CMB Puurs
Abstract
At the occasion the Corde Factum guitar festival on May 14, 2010 Gernot Wagner gave a presentation on how to construct a composite guitar top1. Materials, tools and working methods were discussed.
Introduction
The first double top guitar was built by Matthias Dammann (MD) in Germany around the late 1980s. MD had the idea to construct a top from very thin sheets of tone wood with in between a structure of diagonal strips. The result was good but the production process itself was complicated.
TUNING MACHINES FOR THE CLASSICAL GUITAR.
---
Chris Van Heddegem, CMB Puurs, Gitaarbouw 2010-2011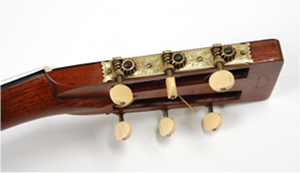 The origin of the tuning machines goes back to the early 19th century, when not shortly after the industrial revolution, the progress in engine building made the construction of worm / worm gears possible. Specific of this construction is that the worm wheel drives the worm but that the reverse action is practically excluded. It should therefore come as no surprise that peg tuners had to make place for the technically superior worm / worm gear construction as still used nowadays. Until early in the first half of the 20th century the worm was positioned before the worm wheel, in other words towards the player, as shown on the picture at the left. (Waverley (?) Tuning machines on a Martin's guitar from 1907)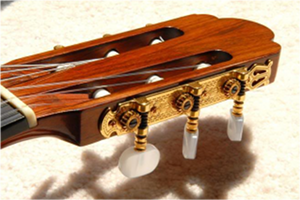 On more recent tuning machines the worm is positioned behind the worm wheel as can be seen on the picture at the left (Schaller LG1). Why this change happened is totally unclear especially since there is no technical reason to this; this had probably only to do with the availability of some components.
A SIMPLE METHOD TO MEASURE THE SOUND VELOCITY / RADIATION RATIO IN SOUNDBOARD WOOD.
---
Chris Van Heddegem, CMB Puurs 2012-2013
Introduction
Building musical instruments always starts with the selection of the most suitable materials.
The most important parameter of soundboards material is the radiation ratio, which is determined by the stiffness and the density of the material and which is calculated by dividing the sound velocity by the density. This ratio should be as high as possible (preferably higher than 15 along the grain) to give maximum sound output.
Traditionally soundboards material is tested manually by bending to get an idea of the stiffness and by estimating the weight.
However with some simple tools that are now commonly available to us, it is also possible to calculate the radiation ratio based on a few simple measurements.